Bardzo aktywny
Moderator
Ekspert
Dołączył

25 Czerwiec 2017
Posty

193
Reakcje/Polubienia

2057

https://www.pdfreaderpro.com/


PDF Reader Pro
Windows, Mac, Android, and iOS
https://www.pdfreaderpro.com/product
Programy Za Darmo

PDF Reader Pro for Windows

Valentine 2023

Giveaway
We at Programy Za Darmo would like to thank the

PDF Reader Pro

team for the exclusive giveaway
2 x Permanent Licenses;
1 PC license with free upgrades to future versions
One extra license
​
PDF Reader Pro for Windows
PDF Reader Pro is the best PDF reader, editor, converter for Windows, an alternative to adobe acrobat reader, to view, markup & review, edit, convert, merge & split, organize, form fill, sign, compress, secure, watermark, print and share PDF documents.
​
PDF Reader Pro was recognized by G2 as High Performer in Customer Satisfaction in Spring 2022 for File Reader Software

Free Trial: https://www.pdfreaderpro.com/windows

Operating System: 32-bit and 64-bit Windows 7, 8, 10, and 11
What's New in PDF Reader Pro Windows (v2.4.3 released on December 28, 2022)

- Edit Images: Add images to PDF and edit them with crop, rotate, replace, and flip tools
- Optimize Text Editor: Support aligning text for a better layout
- Improve Outline Function: Fast add outline items by right-clicking on selected text
- Upgrade PDF Converter: Retain page layout and data with improved PDF to Excel converter
- Tiny bug fixed and performance optimization for user experience


PDF Reader Pro Highlights
Create PDF from blank pages or images

Merge and combine multiple PDF documents

Split your PDF to several files

Insert and extract pages from other documents

Compress a PDF to reduce file size

Convert your files to Microsoft Word, Excel, PowerPoint, image, text

Convert to PDF from jpeg, jpg and png

Batch converter PDFs at the same time

Add a header and footer or bates numbers

Protect PDFs with password

Carry your PDFs and make a presentation under Slideshow Mode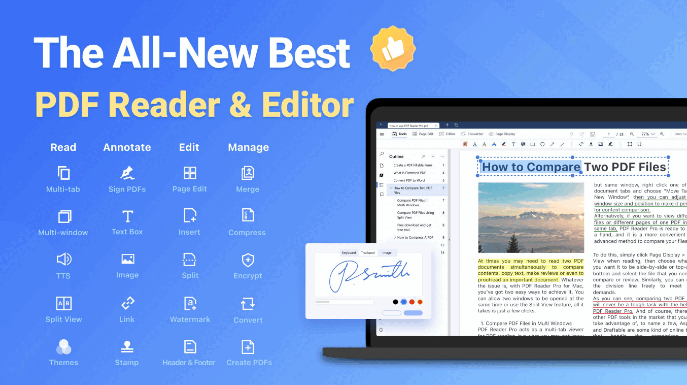 PDF Reader Pro Features
PDF Reader​
Display Mode - Support vertical/ horizontal scrolling mode, single/ double page continuous, full-screen reading mode.

PPT slideshow(presentation) mode.

Multi-window Display - Open different documents in multiple windows.

Multi-tab Viewer - Open multiple PDF files on the same window.

Split View - View two parts of the same document side by side simultaneously (Horizontal & Vertical) under split view mode.

PDF search text, jump to page, bookmarks, outline for a fast navigation, fully support to zoom in & out.

Outline - Edit or create outlines to easily navigate through the whole file.

Pinned Folders - Pin your frequently used file folders on the Home Page for quick access of files.

Customize theme colors and switch between day mode, night mode, eye-protection mode or any other theme colors as you like.

Open password-protected PDF files.

Print PDF document - Document, Document and comment, Document and Annotation, Document and Form are supported.
PDF Annotator​
Classic tools - Annotate and markup PDF with highlight, underline, strikeout, hyperlinks and other marked PDF files. Continuous annotations supported.

Support to insert freehand, text box, anchored note, arrows, lines, shapes, etc.

Stamp - Add stamps customized with pictures and text or a standard stamp, such as Approved, Sign Here, Confidential, Final, etc.

Links - Add hyperlinks to redirect other destinations(URL, Email & Pages).

Image - Insert images into PDFs to customize your PDFs.

Export/import annotations - Export annotations as XFDF.
PDF Converter & Create​
Convert PDFs to Microsoft Word (.docx), Excel (xlsx), PowerPoint (.pptx).

Export from PDF to Text(.txt), Image, JPEG(.jpeg), PNG(.png) offline.

Image to PDF converter, convert to PDF from Image, JPEG, JPG, PNG, BMP, TIFF, GIF.

Create new blank PDFs or images PDFs.
Form Filler & Sign PDFs​
Work with fillable PDF forms created in Adobe Acrobat.

Type on PDF and Fill out any PDF forms with interactive fields such as text fields, checkbox, radio box, listbox, combobox, button.

Add beautiful handwriting or use image to create your own signatures, save signatures for future use.
Page Editor​
Organize PDF pages - Reorder/Renumber, arrange or edit pages easily by drag and drop.

Merge & Split - Split documents into multiple documents or combine multiple pages into a new single, searchable PDF.

Extract- Extract the desired pages to create a new PDF, or extract pictures in the file for further use.

Insert - Append pages from other PDFs or blank, ruled, music, squared pages into the existing file. Adjust the page size, orientation and insert position.

Replace - Replace selected pages with pages in another PDF.

Rotate, reverse, duplicate/copy, paste and remove/delete pages.
PDF Editing​
Watermarks - Add fantastic watermarks to keep your documents safe and professional.

Header & Footer - Label each page of your PDF document with fully customized page numbers.

Bates Numbers - Identify and retrieve info from your legal docs. Add a unique prefix or suffix which can be a set number, case number, firm name or date.

Flatten - Flatten PDF to make the contents static.

Secure and encrypt PDF documents - Set passwords to protect sensitive PDF documents, and authorization to edit, copy, modify or print PDFs.
More Features​
PDF Compressor - Reduce PDFs size to make your documents much lighter for better sharing.

TTS (Text to Speech) - Free text-to-speech tool lets PDF Reader Pro read texts loud for you with selectable languages, voices and reading speed.

Share - Easily share files with your friends, classmates and colleagues via email, Skype, Slack, etc.
Visit https://www.pdfreaderpro.com/windows/features to explore more functions


PDF Reader Pro Download https://www.pdfreaderpro.com/windows/download

PDF Reader Pro Purchase https://www.pdfreaderpro.com/windows/store
Up to 50% off the Team Plan and a special 50% discount on the Education Plan, Permanent License

PDF Reader Pro links
Website:
https://www.pdfreaderpro.com/
Free Trial:
https://www.pdfreaderpro.com/windows
Download:
https://www.pdfreaderpro.com/windows/download
Purchase:
https://www.pdfreaderpro.com/windows/store
Products:
https://www.pdfreaderpro.com/product
Online Tools:
https://www.pdfreaderpro.com/online-tools
Blog:
https://www.pdfreaderpro.com/blog
Help:
https://www.pdfreaderpro.com/windows/help
Facebook:
https://www.facebook.com/PDFProApp
Twitter:
https://twitter.com/PDFReaderPro
ComPDFKit - The Professional PDF SDK for Developers
PDF Technologies | PDF Reader Pro for Windows Giveaway
I would like to thank the PDF Reader Pro team for the

Valentine 2023

giveaway prizes
​
Giveaway Details
PDF Reader Pro for Windows
2 x Permanent Licenses; 1 PC license with free upgrades to future versions
One extra license
Giveaway Rules
1.
Follow
PDF Reader Pro (PDF Technologies) on their social network.
2. Share the giveaway on your
Twitter
page & post the share link here.
3.
Contact
me within 2 days of the winners' selection to claim the prize.
Giveaway Ends
February 14, 2023


Good luck